Eddy's Chrysler Dodge Jeep Ram Gift Drive
Did you know we are hosting a Gift Drive at our dealership? This year, we (along with all of our Eddy's Everything dealerships) have proudly partnered with Catholic Charities in collecting gifts for the St. Anthony Family Shelter and Harbor House. From all of the donations we collect, the families in shelter will be able to select donated items to give as gifts from Santa's Workshop. This not only applies to parents choosing gifts for their children, but also for children to shop for their parents.
We are accepting gift donations starting November 15, 2019 through December 14, 2019. Please remember that all Eddy's dealerships serve as a drop off location for this wonderful gift drive! Please view the Wishlist below on what children, teens, and families are hoping to have this Christmas. Wrapping paper would be helpful too!
Please help us make this season the best for these families in need. Online shopping is also available through Amazon.com or Smile.Amazon.com. Click the "Lists" tab and search by email for [email protected]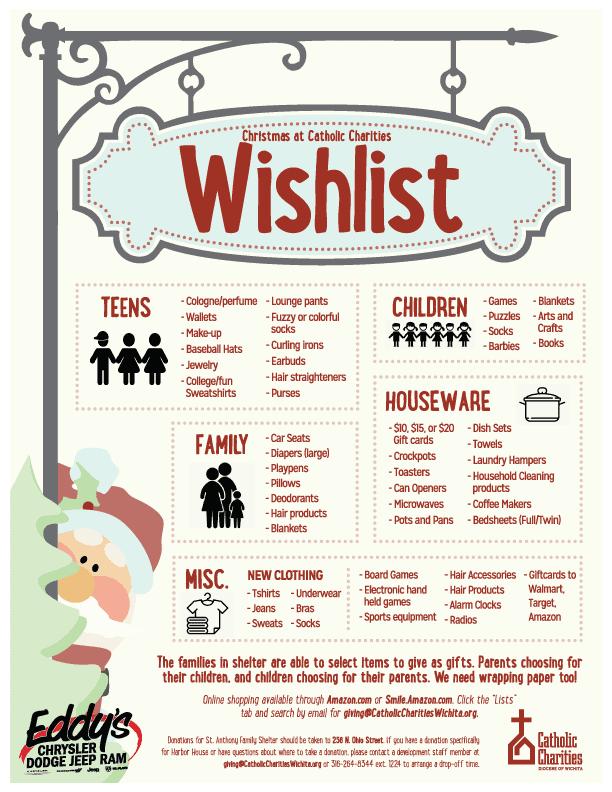 If you have any questions, please give us a call at 316-773-2002 and ask to speak to the Marketing Department. We are extremely excited about our partnership with Catholic Charities and how our Gift Drive will benefit local families in Wichita, KS.